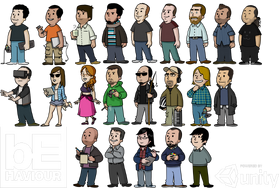 This page lists developers who worked on Fallout Shelter by Behaviour Interactive.
Fallout Shelter credits IPhone
Edit
Bethesda Softworks
Edit
Behaviour Interactive Inc.
Edit
Localized Version Produced by Synthesis Global Solutions
Edit
Localization Producer: Emanuele Scichilone
Language Coordinators: Mauro Bossetti, Emanuele Scichilone, Jonathan Russo, Jan Werkmeister, Aron Sayed, Gustavo Díaz
Testing Coordinator: Alessandro Ciurleo, Adriano James Majocchi
French Translators: Pierre Quelquejeu, Ophélie Colin
Italian Translators: Paolo Caronni, Óscar Cruz Gonzalez (Óscar Cruz González)
German Translators: Gerald Paetsch, Roland Strube, Roland Austinat, Ulrich Onken, Constanze Vogl
Spanish Translators: Diego Romero, Jose C. Cabezas (José Cabezas), Estrella del Campo
Testing Team: Thomas Frers, Augustin Truffaut, Violaine Sauze, Pierre Techoueyres, Nicolas Jara, Leonardo Oliver Lenares, Matteo Bianchini, Matteo Voltolina, Andreas Edler, Björn Wetz, Danny Münch, Lilla Horváth (Lilla Horváth), Óscar Cruz Gonzalez, Pablo López Cardona, Israel Delgado Miranda, Iñigo Luzuriaga Bañon
Expansion required

This article is too short to provide more than rudimentary information about the subject. You can help

Nukapedia

by

expanding it

.