This page lists all keys in Fallout 3.
For keys in other Fallout games, please see "Key".
For an overview of Fallout 3 content, please refer to "Portal:Fallout 3".
General information
Edit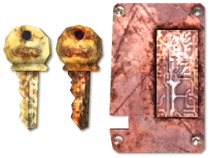 Keys in Fallout 3 open specific doors or containers, some of which are inaccessible otherwise. Some keys can be found in the game world, some are in the possession of non-player characters and can be pickpocketed while a few can only be retrieved if their owner has been killed.
dead

Only found if the NPC in question is dead.

dial

Received through dialogue or as part of a quest; not in the NPC's normal or death inventory.
(

dial

)
In the NPC's inventory but can also be received through dialogue or as part of a quest.

sic

Name is spelled as it is in-game, even if the in-game spelling is grammatically or otherwise wrong.
Base game
Edit
Operation: AnchorageEdit
No keys are added by Operation: Anchorage.
Broken SteelEdit
Point LookoutEdit
Mothership ZetaEdit
No keys are added by Mothership Zeta.