Deathclaw (Fallout 3)
Talk

7
16,948pages on
this wiki
"
Deathclaws are some of the most frightening creatures ever encountered by settlers in the Capital Wasteland. Their speed and ferocity are matched only by the size of their claws...
"
— Fallout 3 loading screen
Deathclaws are creatures living in the Capital Wasteland in 2277. They are a large, agile, and strong species of mutant Jackson's Chameleon[1] and are far more common in the Capital Wasteland than the west coast despite the more desolate, barren and desert-like characteristics of the wasteland.
Background
Edit
The deathclaws were originally created before the Great War by the government to replace humans during close-combat search-and-destroy missions. They were derived from mixed animal stock and then refined by the Master, using genetic manipulation. The resulting creature is almost unbelievably fast and powerful.[2]
Around 2161, deathclaws were still mysterious and legendary creatures to many inhabitants of southern California. They could only be found in the Boneyard at the warehouse, with a mother living there, one in a former deathclaw's nest and around the Hub, sometimes attacking caravans or travelers. Later, as the deathclaw population grew and really spread across the continent, the deathclaws stopped being perceived as legendary beasts, and started to be seen just as another dangerous creature.
Characteristics
Edit
Deathclaws have a hunchback, humanoid build, with reptilian head and limbs. They stand roughly nine to ten feet tall, with a thick and resilient hide, powerful muscles, and twelve-inch-long, razor-sharp claws that can kill almost any other creature with only a few swipes; hence their name. They are said to have excellent hearing and sense of smell, though their eyesight is poor. Their build gives them incredible speed and strength in close combat, making them an extreme threat at all times. Though they were originally mutated chameleons, they have lost the ability to camouflage themselves.
Deathclaws are very aggressive, territorial, carnivorous, and highly intelligent. In the Mojave Wasteland, they typically live in small packs of around eight to twenty members. Packs are led by an alpha male, who is the only one allowed to mate with the females. However, deathclaws in the Capital Wasteland are for the most part solitary, though sometimes they are encountered in pairs.
Deathclaws are oviparous, with the eggs typically laid in dark, sheltered locations and fiercely guarded by their mother. Young deathclaws reach maturity under the care of their parents, following them closely until they are old enough to fend for themselves.
Although they do not have vocal cords, they can growl and shout, and seem to be able to mimic human speech much the same as a parrot does. However, normal deathclaws aren't intelligent enough to be capable of real speech.
Gameplay attributes
Edit
Deathclaws are arguably one of the fastest, most powerful and frightening creatures in the game. Fortunately, deathclaws are not found in many areas around the Capital Wasteland, so their influence on where and when the Lone Wanderer travels is limited. Despite having tough hides according to game lore, the deathclaws in the game are simply given a lot of Hit Points rather than Damage Resistance.
Deathclaw
Edit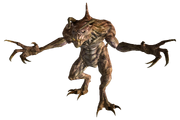 A regular deathclaw, with all of the characteristics and attributes described above.
Name (Base ID)
Statistics
Behavior
Abilities
Items
Deathclaw


0000cf9a




000c3280




00031e29

Very aggressive: Will attack enemies and neutrals on sight.

Foolhardy: Will never flee or avoid anyone.

Helps friends: Will help friends and allies.
Enclave deathclaw
Edit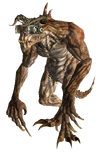 Enclave deathclaws only make appearances as Enclave camps begin to appear. Many of these camps are likely to house mind-controlled deathclaws in cages, which are just the same as regular ones, with the exception that they will not attack Enclave forces. The mind-control devices on their heads can be targeted and crippled, which will frenzy them. Enclave deathclaws may also be dropped off from Enclave Vertibirds, along with Enclave soldiers and sentry bots.
During the quest The American Dream, a deathclaw can be seen in a cage in Raven Rock. This deathclaw has not yet been fitted with the mind-control device and can be released from captivity with a Lockpick skill of 50. When released, it will attempt to kill anything in sight, excluding its liberator, until it runs out of other enemies to fight. It will then proceed to attack the player.
During the Broken Steel add-on quest Shock Value, if one receives Scribe Vallincourt's device, the Enclave deathclaws will act as temporary followers, but if you go too far from the Enclave base where they were stationed, their heads will explode.
Name (Base ID)
Statistics
Behavior
Abilities
Items
Deathclaw


000bcc4d




0001cf72




000aa836




xx

00946b

Very aggressive: Will attack enemies and neutrals on sight.

Foolhardy: Will never flee or avoid anyone.

Helps friends: Will help friends and allies.

Deathclaw

Broken Steel




xx

00223c (follower)

Very aggressive: Will attack enemies and neutrals on sight.

Foolhardy: Will never flee or avoid anyone.

Helps nobody: Will not help anyone.
Locations
Edit
Deathclaw corpses contain a deathclaw hand, a component which can be used in creating a deathclaw gauntlet. However, when the hand is taken, the deathclaw still has both hands.
Deathclaws are classified as "abominations", and are therefore not affected by the Animal Friend perk.
With Broken Steel installed, random encounters with deathclaws occur far more often. At higher levels, deathclaws can be commonly seen traveling in pairs.
Crippling a deathclaw's leg slows it down and also prevents it from using its high damage leaping attack, thus decreasing its combat effectiveness and making it easier to kill. Crippling a leg also slows a deathclaw down more than it does most other wasteland creatures, because deathclaws are bipeds rather than quadrupeds.
If the player uses something to make themselves invisible (i.e. Stealth Boy or Chinese stealth armor) at the Enclave outpost near Dukov's Place, the Enclave deathclaw will usually go berserk and attack the Enclave soldiers, even without the jammer.
A caged deathclaw can be found inside Raven Rock. When leaving after speaking with President Eden, the player will probably come across the cage containing the deathclaw. When it is opened the deathclaw will not immediately attack the player, but rather any other enemies.
Deathclaws usually spawn around the Regulator HQ. Sometimes, when entering, a deathclaw will follow the player through the door and attempt to kill all the tenants of the building. Sonora Cruz, the leader of the regulators, will run out of the building and will most likely not return to the Regulator H.Q.
Appearances
Edit
Deathclaws appear in Fallout 3 and its add-on Broken Steel.
pc

ps3

xbox360

Deathclaws occasionally fly off into the sky in a physics engine glitch. They can still be targeted and killed in V.A.T.S. which will result in their dead body flying across a large amount of land. [verified]

pc

ps3

xbox360

A deathclaw may spawn inside Regulator HQ and attack everyone. It will continue to spawn in this manner after the first time this happens. [verified]

pc

ps3

xbox360

When using the deathclaw control scrambler it's possible for them to not follow the player, but die automatically. [verified]

xbox360

A deathclaw may spawn inside Tenpenny Tower and attack everyone. It will continue to spawn in this manner after the first time this happens. [verified]

pc

ps3

xbox360

A deathclaw may spawn inside Megaton and will kill everyone. Oddly the deathclaw will not be hostile to the player. This problem can be fixed by removing the deathclaw from the game with console commands.[verified]
References
Edit
↑ Joseph (Ocjoseph.msg) in Fallout 2 says:

"Well, let's see... Deathclaws appear to be mutated Jackson's Chameleons

In-game spelling, punctuation and/or grammar

, the horned variety. There are a lot of similarities still present, but an even greater number of differences. The mutation factor is quite high. This species is highly intelligent, about the equivalent of an eight-year-old, with some individuals reaching human normal level. Their learning capacity is very high and they are capable of abstract thought and reasoning."

↑ Deathclaws being genetically engineered before the Great War and later refined by the Master is mentioned in the Fallout 2 Official Strategies & Secrets strategy guide, written by Fallout 2 lead designer, Matt Norton, as well as in Fallout Tactics. It is unknown why the Master would genetically manipulate the deathclaws and then not use them at all for his purposes.
West Coast
(Fallout, Fallout 2, Fallout: New Vegas)
Alien

 ·

Bighorner (Bighorner bull, Bighorner calf)

 ·

Bloatfly

 ·

Brahmin

 ·

Cazador (Young cazador, Legendary cazador)

 ·

Centaur (Evolved centaur)

 ·

Coyote (Coyote alpha male, Coyote den mother, Coyote pup)

 ·

Deathclaw (Baby deathclaw, Young deathclaw, Blind deathclaw, Deathclaw alpha, Mother deathclaw, Talking deathclaw, Legendary deathclaw)

 ·

Dog (Cyberdog, Legion Mongrel, Vicious dog)

 ·

Floater

 ·

Fire ant

 ·

Gecko (Hunter gecko, Fire gecko, Golden gecko, Little gecko)

 ·

Ghost people (Ghost harvester, Ghost seeker|Ghost seeker, Ghost trapper)

 ·

Ghoul (Feral ghoul roamer, Feral ghoul reaver, Glowing one, Feral trooper ghoul)

 ·

Giant ant (Giant worker ant, Giant soldier ant, Giant ant queen)

 ·

Fire ant (Fire ant worker, Fire ant soldier)

 ·

Giant catfish

 ·

Giant rat (Mole rat, Pig rat)

 ·

Human (Dwarf)

 ·

Lakelurk

 ·

Mantis (Giant mantis, Giant mantis nymph, Giant mantis female)

 ·

Marked man

 ·

Night stalker (Young night stalker, Den mother, Legendary night stalker)

 ·

Radroach

 ·

Radscorpion (Bark scorpion, Bark scorpion hunter, Small radscorpion, Giant radscorpion, Radscorpion queen)

 ·

Raven

 ·

Slags

 ·

Spore carrier (Spore carrier savage, Spore carrier brute, Spore carrier runt)

 ·

Spore plant

 ·

Super mutant (Super mutant master, Nightkin)

 ·

Wanamingo

 ·

Tunneler

 ·

Wolf

 ·

Yao guai
East Coast
(Fallout 3, Fallout Tactics 2)
Abomination

 ·

Alien

 ·

Alien squid

 ·

Alien worm

 ·

Bloatfly

 ·

Brahmin

 ·

Centaur

 ·

Deathclaw

 ·

Dog

 ·

Fire ant

 ·

Ghoul (Feral ghoul, Feral ghoul reaver, Feral ghoul roamer, Glowing one, Swamp ghoul)

 ·

Giant ant (Giant ant queen)

 ·

Giant catfish

 ·

Human

 ·

Lamprey floater

 ·

Manowar tendril floater

 ·

Mirelurk (Mirelurk hunter, Mirelurk king, Nukalurk, Swamplurk, Swamplurk Queen)

 ·

Mole rat

 ·

Mutant crocodile

 ·

Mutant wanamingo

 ·

Needle tooth floater

 ·

Radroach

 ·

Radscorpion (Albino radscorpion, Giant radscorpion)

 ·

Super mutant (Super mutant behemoth, Super mutant brute, Super mutant master, Super mutant overlord)

 ·

Swampfolk

 ·

Trog

 ·

Yao guai
Midwest
(Fallout Tactics, Van Buren)
Boom bug

 ·

Brahmin

 ·

Dog

 ·

Electro-beetle

 ·

Endless walker

 ·

Gehenna

 ·

Ghoul (Born ghoul, Feral ghoul, Glowing one)

 ·

Giant albino ant (Giant albino ant queen)

 ·

Giant leech

 ·

Giant rat

 ·

Giant wasp

 ·

Hairy deathclaw (Baby hairy deathclaw)

 ·

Human

 ·

Komodo dragon

 ·

Molech

 ·

Mutant cannibal

 ·

Raccoon

 ·

Radroach

 ·

Radscorpion

 ·

Radtoad

 ·

Trog

 ·

Super mutant

 ·

Wolf
Texas
(Fallout: BoS, Fallout: BoS 2)
Brahmin

 ·

Coyote

 ·

Dog

 ·

Experimental deathclaw (Baby experimental deathclaw)

 ·

Ghoul (Glowing one)

 ·

Giant rat (Mole rat)

 ·

Human

 ·

Radbug

 ·

Radscorpion (Glowing radscorpion, Spitting radscorpion, Large giant radscorpion)

 ·

Super mutant
Project V13
Ghoul

 ·

Human

 ·

Mutant mantis shrimp

 ·

Super mutant