Dead Horses camp
Talk

0
15,835pages on
this wiki
Dead Horses camp

Technical
cell name
NVDLC02DeadHorsesCamp
ref id

xx

00736e
The Dead Horses camp is a location in the Fallout: New Vegas add-on Honest Hearts
Background
Edit
The Dead Horses camp at Eastern Virgin is a makeshift base for the Dead Horses when they were called from Dead Horse Point at the behest of Joshua Graham.
You must travel through a canyon to reach this location. Be aware of the beartraps in the water that the Dead Horses have set up to keep the White Legs out, as those can do a fair amount of damage. This location consists of Angel Cave.
The camp contains six bighorner hide beds, of which four are occupied; a campfire, and many sacks and clay pots containing mostly plants or food.
Directly opposite to the entrance to Angel Cave you will find what looks to be a ramp of stone. If you climb your way on top of this 'ramp' you will come across a skeleton.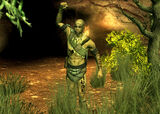 With the Wild Wasteland trait, upon entering the camp, a Dead Horses tribal named Two-Bears-High-Fiving will rush out of the Angel Cave before heading back in, where he will remain.
This camp will be empty if you have completed Flight from Zion.
Appearances
Edit
This Dead Horses camp appears only in the Fallout: New Vegas add-on Honest Hearts.
References
Edit