Church of Harold
Talk

0
15,831pages on
this wiki
Cleanup (Issue: Remove Fallout 3 content, replace with content based on Church of Harold Brochure)

To meet

Nukapedia'

s quality standards, this article or section may require cleanup. Please help by

improving

the article.
Church of Harold

Church of Harold symbol
The Church of Harold is a cult formed around the worship of a mutant called Harold active on the West Coast
Harold's Cult
Edit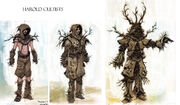 One of the pieces of concept art for Fallout 3 by Adam Adamowicz that were released after his death, was called "Harold Cultists". The piece showed three characters dressed in what appears to be clothing made of all-natural resources. One could speculate on whether the amount of clothing the three characters have represents rank in the cult.
A Church of Harold brochure.
A similar East Coast cult, called the Treeminders, also exists.
Appearances
Edit
It was to appear in Interplay's original Project V13 - also known as Fallout Online. They also appear in The Armageddon Rag, Vol. 2, the newsletter leading to the project. Fallout Online was abandoned in favor of a new, unrelated, Project V13.
References
Edit