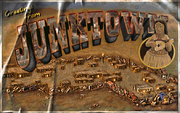 Junktown
is one of the smaller towns in South California. As the name suggests, it was built after the
Great War
out of random pieces of junk. The town was founded soon after the War by a soldier called Darkwater. The town mostly lives out of trading and has a reputation of open hospitality. Around
2161
, the mayor of Junktown was
Killian Darkwater
, grandson of the town's founder, who also ran a general store,
Darkwaters
. Another big player in the town was
Gizmo
, a small-time crook and casino owner. While Gizmo's casino brought a lot of tourists and money into the town, problems also came with it. Other important places in Junktown at that time included the
Crash House
, home to the
Skulz
and the
Skum Pitt
, a bar owned by
Neal
.
Doc Morbid
was the town's doctor.
Tycho
, a Wasteland Ranger, also resided in Junktown for a while at that time.